Dracula has Risen From the Grave is a 1968 Horror film released by Warner Bros.-Seven Arts. It stars
Christopher Lee
, Rupert Davies, Veronica Carlson, and Barry Andrews, and co-stars Barbara Ewing, Ewan Hooper, Michael Ripper, and Marion Mathie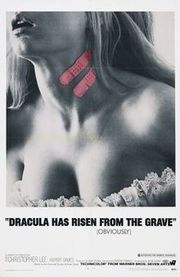 . It is followed by
Taste the Blood of Dracula .
Dracula is ressurected by a drunken priest and seeks revenge on the Monsignor who exorcised his castle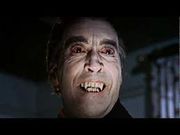 Christopher Lee as Count Dracula
Rupert Davies as the Monsignor, Ernst Muller
Veronica Carlson as Maria Muller
Barbara Ewing as Zena
Barry Andrews as Paul
Ewan Hooper as the Priest
Michael Ripper as Max
Marion Mathie as Anna Muller
George C. Cooper as the Landlord John D. Collins as the Student
Chris Cunningham as the Farmer
Norman Bacon as the Boy
Production Notes
Edit
Filming began on April 22 1968. Terence Fisher was originally supposed to direct the film until he walked in front of a car drunk. Freddie Francis replaced him as director The movie was filmed at Pinewood Studios. It is not known when filming wrapped.
-This is the first time Christopher Lee became reluctant to play the role of Dracula
-This was the first movie ever to be rated by the MPAA
-This was Hammer's most profitable film
-Takes place in 1905
-First film to win a Queen's Award for Industry
-Ewan Hooper was dubbed
References
Edit
www.imdb.com/title/tt0062909/
https://en.wikipedia.com/wikia/Dracula_has_Risen_From_the_Grave